The distribution company Ojos Abiertos Films was present at the Malaga Festival Industry Zone (MAFIZ) of the 25th Malaga Film Festival, which was held between 18 and 27 March at the NH Hotel in the city. Throughout this week, Davinia Burgos has presented its various distribution services at festivals and platforms to directors, producers, content creators and sales agents who have attended this key event in the world of film in Spain.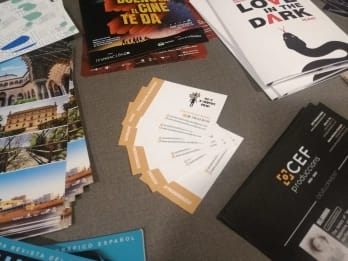 In addition, the head of Ojos Abiertos Films has held meetings with participants of the Malaga Work In Progress (WIP). This section of the festival helps to boost the financing of feature films and to promote and disseminate them, and the distributor is open to strengthening synergies. In this regard, it should be mentioned that the Malaga City Council, Malaga Procultura, the Malaga Film Festival, the Institute of Cinematography and Visual Arts (ICAA), the Conference of Audiovisual and Cinematographic Authorities of Ibero-America (CAACI), Ibermedia and the Ibero-American Federation of Film and Audiovisual Producers (FIPCA) are the organisers of this area.
Ojos Abiertos Films also attended Hack Malaga, where it had the opportunity to meet new content creators from different digital platforms. As well as approaching this new emerging space.