The work of Ojos Abiertos Films as distributor of the short film Te quiero madre by Charo Anaya has been nominated for the "Málaga, Mujeres en Escena" Award given by the Área de Igualdad del Ayuntamiento de Málaga at the next Malaga Film Festival 2022. This is the award given by the entity to the best work done by a woman born or living in the city of Malaga in any professional category necessary for the production of the work presented.
Thus, the work Te quiero madre was screened together with the other works competing for the Biznaga de Plata, Málaga Mujeres en Escena at the Cine Albéniz on Monday 8 November as part of the XIX Muestra de cine Mujeres en Escena. "I started in the world of distribution to make the work of female directors and creators more visible and to ensure that these stories were not locked away in a drawer", emphasised Davinia Burgos during the presentation of the session. She also pointed out that in her career as a distributor, understanding conflict as a learning process is fundamental in comparison with the history of script development as a screenwriter. "The first conflict as a distributor as a basis for learning was the fact that I started without any resources, but with a lot of passion and respect for the profession," Burgos pointed out.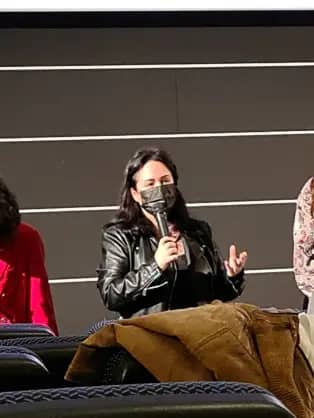 Among these conflicts has been to come across the story of Charo Anaya in order to give it visibility in the midst of the pandemic. "This limitation became an opportunity and a positive outcome of the story through the selections that this director has had and the recognition that is made in Malaga to my career from the Area of Equality", said Burgos. The short film Te quiero madre (I love you, mother) highlights the value of the feelings of children in dysfunctional families as a result of abuse and is also notable for the participation of two great actresses, María Galiana and Adriana Ozores.